You are not alone. These days, the great majority of consumers literally search the internet for answers about products to make purchase decisions. In case you haven't noticed, the internet offers unlimited information, which can be overwhelming. Almost as overwhelming as this image of another failed gutter we typically see.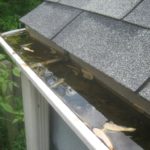 At the Ever Clean offices, we study search term trends to learn what problems consumers are having so we can help solve problems. We want to solve your problems and have had success solving water problems now for almost 18 years.
One currently problem we are trying to solve now is the difficulty consumers face with selecting the right gutter product for their home.
Our callers often tell me they have been researching products on the web. Here are the common search words we see to try to find the right system:
leaf gutter guards, gutter reviews, +gutter +guards, leaf gutter reviews, leaf gutter guard protection, best +gutter +guards, best +gutter +system, best +gutter +guard, +gutter +guard installation, and +clog free +gutters.
Unfortunately for the consumer, these terms will bring about dozens of sites that only promote products which may or may not be the right fit for their needs. These sites are usually disguised as "consumer review" or "gutter evaluation" sites, though they are owned and operated by one of many VERY aggressive sales-oriented home improvement companies that are new in business or offer gutter guards as a sideline to their other home improvement business.
Here are some tips to EDUCATE YOURSELF about how to choose products and companies that are right for your home:
Conduct your own site evaluation about your needs based on your own observations about trees in the area, height of these trees, type of debris these trees toss around (large or small), height of your roof areas with gutters, condition of the wood behind and near the gutters, and finally your own physical ability or interest in different degrees of gutter maintenance that come with different gutter products.
Search for gutter company reviews from ONLY unbiased sites you have already heard, such as Better Business Bureau (look at company longevity here as well as reviews), Angie's List, Google Plus (reviews can be confirmed) and even the new contractors' site called houzz.com.
Ask your friends and acquaintences what they have on their house and how they like it. Ask them how their research process went, which companies gave them a good feeling. In this world of time spent on the internet research credibility lies with face to face communication. BUT the key to seeking person to person information is to pursue more than 5 people….the "sample size" needs to be larger due to general differences in houses and personalities. After you have talked to atleast 5, or more, homeowners about their experience some consistencies will surface that you can count on.
Pick up the phone and call the Ever Clean Gutter Company office for a real question/answer session that is no strings attached. We only want to serve homeowners who have a specific need for our type of product (the only fully maintenance free, permanant gutter), and we are not interested in pressuring callers for a site evaluation without the need. Give us a try: 502.637.3393 / 859.259.1133…………….Otherise, Happy Hunting!