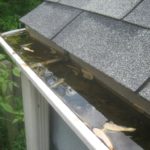 Homeowners beware: February 2018 closes as the wettest February on record in the Commonwealth with more than 10 inches of rain recorded. The flood stories are heartbreaking and we are hopeful for moderation as our Spring comes in these next months.
This is the time to conduct your own inspection on your home for any damaging effects from the excessive rainfall on your house. Wet ground invites a foundation to settle. This is first and foremost because residential structures can be devalued if there are foundation cracks in areas, and none of us can afford to have our residential investment depreciating. Our home, after all, may be the highest earning saving account in this economy.
Wet ground can be identified with green mold on the exterior of your home, landscape materials washed out, hairline cracks in your hardscapes, and mud. When these indicators are present, homeowners must address the source of the water BEFORE the foundation settles from neglect.
Wet ground is generally caused by rainwater running off the roof! Guess what is designed to catch and deliver the rainwater AWAY from the house: the GUTTER SYSTEM!
Let's be honest, most homeowners in this era do not even think about their gutters. The most beautiful and valueable homes in the Commonwealth feature mature trees on their lawns. Gutters on these homes will need to be cleared monthly in order to be confident they will deliver the rain water away from the house to prevent the wet ground.
No one cleans their gutters as often as necessary.
Estimates are free for the Ever Clean Gutter System. The system is completely free from maintenance whatsoever, unlike any type of gutter filter accessory installed to existing gutters.
Ever Clean Gutter System is a Kentucky company, established in 2003, operating with an outstanding team of employees who take pride in providing a product that protects homeowners from water damage caused by clogged gutters. Lifetime Guaranteed!