Cleaning your Gutters
---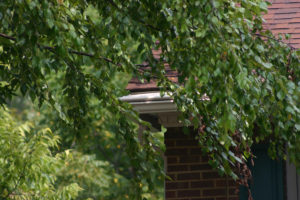 Most homes have trees near or close by, which continually drop or blow leaves and debris into your gutters and into your home gutter guards and gutter mesh, creating clogs, leading to rainwater overflow in the front, behind, and under your gutters. Rainwater overflow causes expensive damage to your home. Gutters that function properly are designed to keep all rainwater flowing off and away from your home. When gutters are clogged it leads to costly damage , which may not be obvious initially but often presents later as a cracked foundation. There are many clog or leaf-free systems available but most have significant design flaws that cause serious and expensive damage to your home.
There are many leaf free systems, home gutter guards, gutter screens, and gutter mesh which are able to keep the leaves away, but the question is can they manage the water, which is the main purpose for gutters on houses. The water function design failures with other systems don't materialize for a few years after the other systems have been installed, when the damage has been done!
WARNING:

Educate and protect yourself, you won't believe the difference!!
Are you Tired of Cleaning Clogged Gutters?
Are you Tired of the Dangerous Heights and Mess?
The Benefits of our Ever-Clean Clog Free Gutter System
Ever Clean Patented Clog Free Gutters protect you from Danger.
Ever Clean Patented Clog Free Gutters protects your home from damaging water leaks.
Ever Clean Clog Free Gutters Offer Beautiful Protection, Creating lasting protection while wrapping your home with a decorative crown molding that will last forever.
Ever Clean Patented Clog Free Gutters provide a lifetime guarantee that your gutters will never clog or pull away from the home.
They are installed The Right Way, under your roof ' s drip edge, not to the roof.
Ever Clean Patented Self Cleaning Gutters Prevent:
Clogged Gutters.
Rotten Wood.
Damaged Driveways.
Sagging Sidewalks.
Wet Basements.
Cracked Foundations.
Leaking Roofs.
Washed Out Landscaping.
220,000 people visit the emergency room each year because of accidents involving ladders, according to the National Safety Counsel.